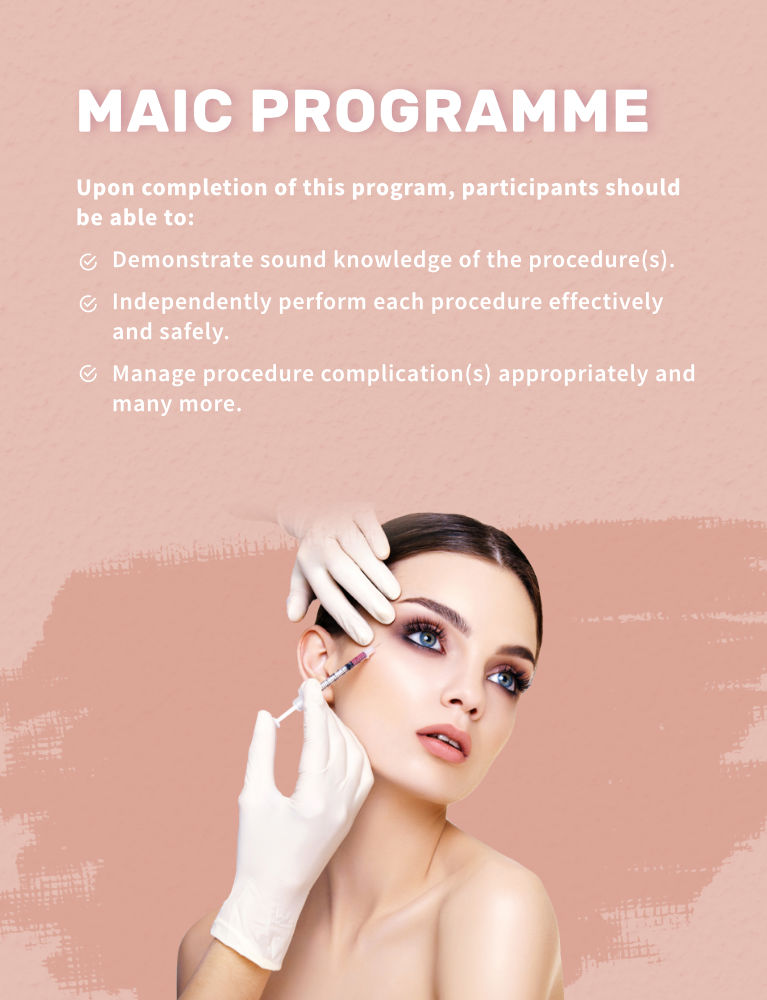 PROGRAM OVERVIEW
Certification
Certifications will be provided upon completion of each programme session
MAIC
Programme Introduction
The Medical Aesthetic International Certification (MAIC) program is created for all medical practitioners who are interested in integrating Aesthetic Medicine procedures into their current practice. The programme curricular and syllabus are following aesthetic medicine training standard set by international bodies and societies. The program is a combination of theoretical aspect encompassing the science of aesthetics medicine and practical session on application of aesthetic related devices.
The participants will also learn the art and science of consultation, clinical assessment and management of patients. In addition, supervision and training is provided by national and international leaders in the field of aesthetic research, regulation and clinical practice. With more than 4 years on experience in conducting such programme and the assistance given by of our highly recognized academic board, we are able to develop a unique aesthetic medicine program to cater the needs of aesthetic practitioner world-wide.
PROGRAMME DETAILS
Why MAIC Programme
Programme Curricular
Timeline
Programme Fee
Goals & Objectives
Participants Criteria
Programme Venue
Steps to Register
A compact training of aesthetic procedures tailored for the regional and international medical practitioners.
A well-structured and comprehensive training syllabus ("Bridging Education & Practice" approach).
An interactive learning environment.
Organized by a well-established education provider in aesthetic medicine for many years.
Supported by a group of Malaysia Health Ministry certified and experienced lecturers/trainers specializing in the field of human anatomy, biochemistry, pharmacology, dermatology and cosmetic surgery and most importantly in aesthetic medicine field.
Training facilities equipped with the state-of-the-art FDA/CE approved medical aesthetic devices and products.
MAIC programme consists of 6 modules:
Module 1: High Intensity Focused Ultrasound (HIFU) [High Intensity Focused Ultrasound (HIFU for Face), High Intensity Focused Ultrasound (HIFU for Body)]
Module 2: Radiofrequency (RF) (Non-Invasive Radiofrequency Invasive / Microneedle Radiofrequency)
Module 3 : Lasers (Q-switched Nd YAG Laser, Fractional CO2 Laser)
Module 4: Light (Intense Pulse Light (IPL) – Basic indications, Intense Pulse Light (IPL) – Advanced indications)
Module 5: Injectables (BTA, Dermal Filler)
Module 6 : Exfoliation (Microdermabrasion, Chemical Peeling)
Every module takes 1.5 days and delivered by qualified lecturer.
The program structure has been designed using established educational theory and practices to enhance participants experience and learning.
Each training module is conducted in 1.5 days as following:
Day 1: Lecture on the basic science of aesthetic medicine and fundamentals of the procedures in the module (8 hours).
Day 2: Live-demonstration and Practical of each procedure in the module (4 hours).
The time and schedule for this program are tailored to meet the needs of an international medical practitioner without having to take any study leave.
MAIC (USD 1000) (RM 4, 161.00)
Fee is inclusive of 6% SST
The fee for MAC Part I shall be paid before the commencement of the program. This fee includes:
Training fee
Handouts, if necessary
Training materials
Exam / Assessment fee and marking
Issuance of Certificate of Competency
Souvenirs
Food and beverages (lunch during the training day)
The fee is not inclusive of Participants cost(s) for:
Accommodation / Transportation (transfer from Senai Airport or Changi Airport) – arrangement by organizer is upon request and may include additional charges
Dinner
Disclaimer : The running of the programme will depend on sufficient number of participants enrolled.
MAIC Secretariat shall notify any change of time, if arises, serving sufficient notice to the participants.
Cancellations made within 2 weeks before the programme will incur a 50% fee.
Payment will be forfeited if the cancellations is made less than 7 days before the programme date.
Mode of Payment :
Cash Deposit / Cheque Deposit / Online Transfer should be made to
"ESTHETIC MEDICAL SOLUTION SDN BHD"|
RHB Bank – A/C No : 20101700222378
(TT – SWIFT Code: RHBBMYKL)
(Please fax/ email/ WhatsApp proof of payment)
Upon completion of this program, participants should be able to:
Learn all the basic sciences in Aesthetic Medicine.
Make the right medical aesthetic diagnosis through proper consultation and suggest suitable treatment.
Understand the concept of all Aesthetic Medicine Procedure.
Demonstrate sound knowledge of the procedure(s).
Independently perform each procedure effectively and safely.
Manage procedure complication(s) appropriately.
The objectives of this programme are:
To teach participants fundamental knowledge of aesthetic medicine by qualified lecturers, tutors and certified Trainers and following aesthetic medicine training standard set by international bodies and societies.
To share with participants recommended methods and techniques in performing Aesthetic Medical Procedure(s).
To provide a comprehensive knowledge in the expected outcome or results of a procedure and the management of possible complications, safety issues and ways to minimize adverse effects of the procedure(s).
To offer a structured clinical training on Aesthetic Medical procedure under supervision of a qualified trainer.
To teach recommended methods and techniques in performing Aesthetic Medical procedure(s).
To ensure participants are competent in performing Aesthetic Medicine procedure of their choice after completing the programme.
Malaysia medical practitioners: Fully registered with Malaysia Medical Council (MMC) and participated in MAC Part I and II.
Foreign medical practitioners: Proof as qualified medical practitioner by their country governing bodies.
Training will be held in MAIC Training Centre in Johor Bahru City Square in collaboration with Mediceuticel Clinic.
MAIC Secretariat shall notify any change in the venue, if arises, serving sufficient notice to the participants.
Method of payment : Online (PayPal / Credit Card)
Step 1:
Click 'Submit' after filling up all mandatory details
Step 2:
Ensure all info is correct and click 'Submit' at Preview Page
Step 3:
Redirect to Paypal website
Step 4:
Complete Payment and wait for system to redirect to website
Step 5:
Check confirmation email for payment made in your email
Method of payment : Offline (Interbank Transfer / Cash / Cheque Deposit)
Step 1:
Click 'Submit' after filling up all mandatory details
Step 2:
Ensure all info is correct and click 'Submit' at Preview Page
Step 3:
Make sure Pop-up window appear stating for successful registration
Step 4:
Check confirmation email in your email/junk email
Step 5:
Attach proof of payment by replying to confirmation email
Step 6:
Wait for confirmation email for payment received within 24 hours
Registration on hold due to COVID-19 Pandemic